War in Europe will bolster Ethereum because of the vast number of stablecoins built atop of its blockchain.  As of this writing that seems to be the case.  Bitcoin's fall should be hitting strong support soon and will provide sweet discounts for investors.  BTC divergence from stocks will add to a bull signal for Bitcoin.
Bloomberg senior commodity strategist Mike McGlone says that Bitcoin (BTC) is on the cusp of hitting strong support.
In a Tweet, McGlone says that as the flagship cryptocurrency hovers below the 50-week moving average, it is trading at an "extreme discount" relative to its 2018 and 2020 lows.
"About 20% below its 50-week moving average, Bitcoin is approaching too-cold levels that have often resulted in good price support. Our graphic depicts the most extreme discount for the crypto vs. its annual average since the 2020 and 2018 lows."
In 2018, Bitcoin's low for the year was $3,122, while in 2020 it was $3,850. Bitcoin is trading at $39,020 a time of writing.
Last week, the Bloomberg commodity strategist predicted that the prices of Bitcoin and Ethereum would be shored up by high inflation and asset prices combined with geopolitical tensions occasioned by the prospects of Russia invading Ukraine. Additionally, McGlone said that Bitcoin was demonstrating divergence from stocks after a period of correlation.
"Digital-asset stalwarts Bitcoin, Ethereum and the proliferation of crypto dollars may find a firm foundation in 2022 on elevated inflation and asset prices, along with tension surrounding Russia and Ukraine. The No. 1 crypto is showing divergent strength vs. equities."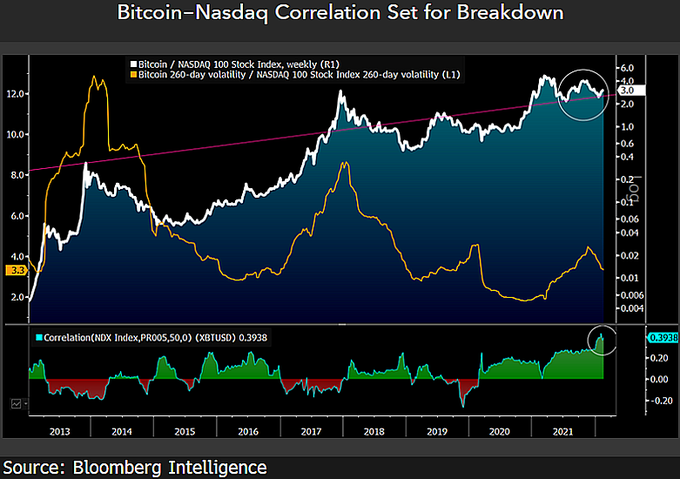 The senior commodity strategist also predicted that in the case of a war in Europe, Ethereum would benefit due to the high number of US dollar-pegged stablecoins built atop its blockchain. According to Bloomberg Intelligence, US dollar-pegged stablecoins are now worth over $172 billion.
"If armed conflict erupted in Europe, the US dollar could be a primary beneficiary; but in cryptos, the buck has already won. The fact that Ethereum made crypto dollars possible, along with the escalating use of the technology to transact greenbacks, supports Ethereum's price."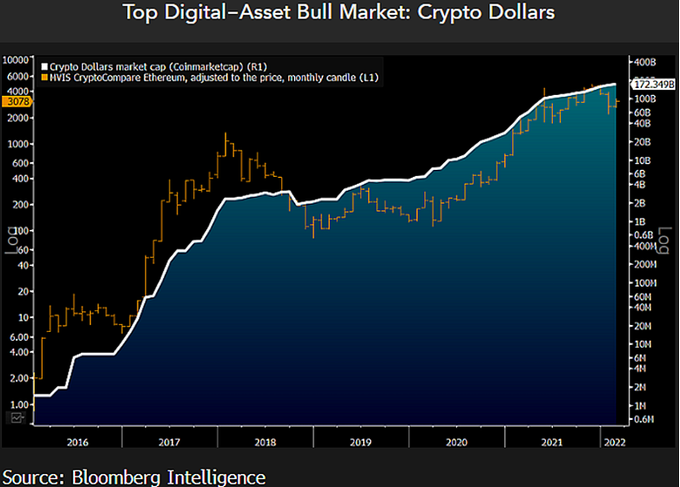 Featured Image: Shutterstock/Mia Stendal
Via this site