BTC price still falling as of this writing.  BTC and Altcoins could rally after BTC stops correlating with the S&P 500 and starts to trade on its own.  Keep an eye out.
Crypto analytics firm Santiment says that one indicator could signal the beginning of a positive breakout for Bitcoin (BTC).
As BTC is now trading below the $40,000 level, Santiment points out that gold, on the other hand, is soaring.
At time of writing, gold is up roughly 5% in the last two weeks, which is a considerable amount for the precious metal.
While Bitcoin shows weakness in tandem with a correcting US stock market, Santiment says that if BTC manages to decorrelate from equities, it would be a major sign of a new rally.
"Bitcoin is barely hanging on above $40,000, and this mid-sized drop to end the week coincided with the S&P500 once again dropping. Meanwhile, gold has soared to an eight-month high. Look for a BTC correlation break to be a sign of a positive breakout."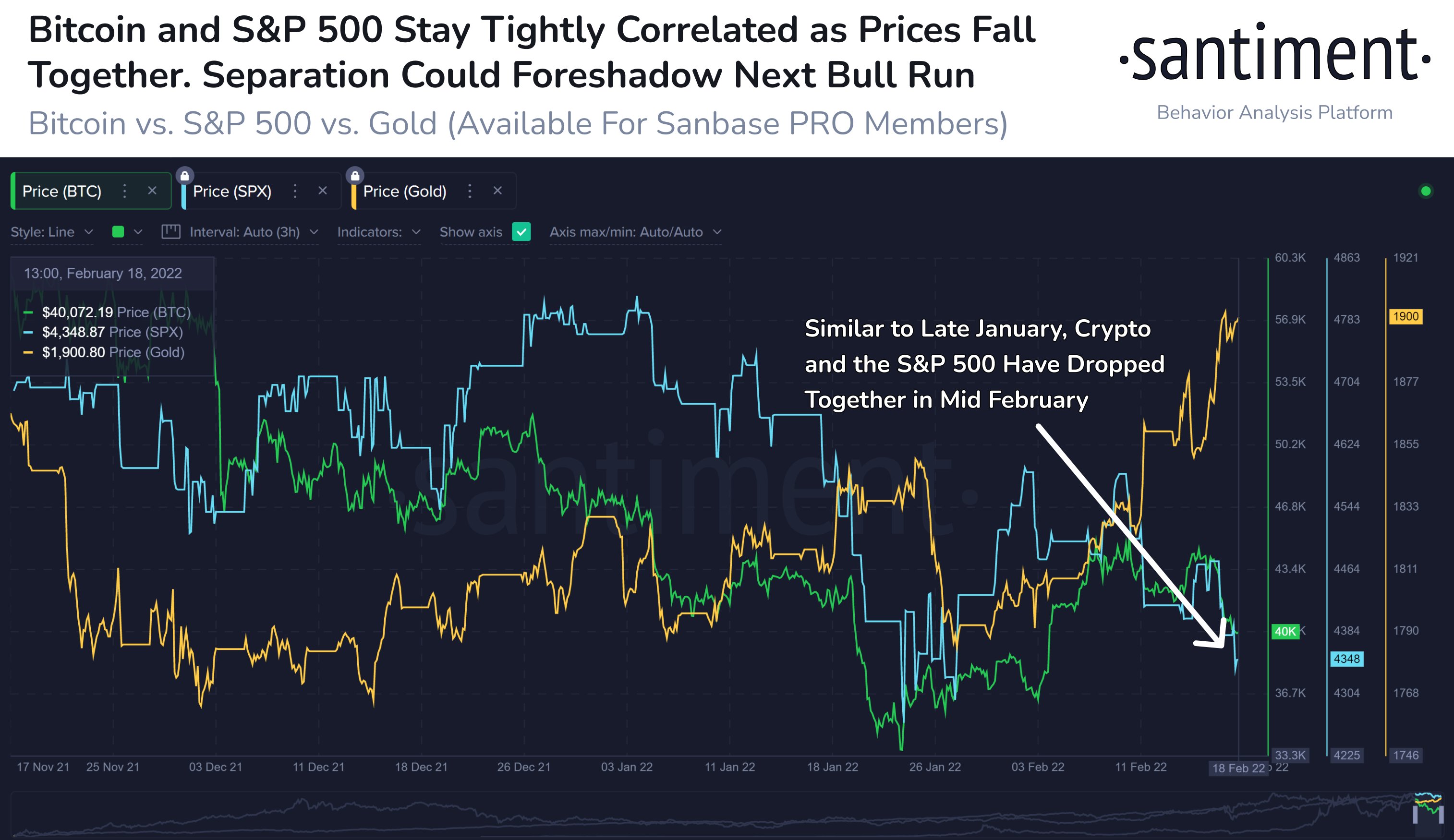 In a recent update to investors, an executive of digital asset manager Pantera Capital said something similar about crypto decorrelating from traditional markets.
Joey Krug, Pantera's co-chief investment officer, noted in the company's Blockchain Letter that while crypto does tend to correlate with traditional macro markets, it only lasts so long before breaking away.
"And so we think over the next number of weeks, crypto is basically going to decouple from traditional markets and begin to trade on its own again. There are a couple of reasons for that. One is that crypto is still a relatively small market and so things like the federal funds rate being at 1.25% versus 0% doesn't make a huge, huge difference for something that's growing four to five times year over year, especially if you look at stuff like DeFi (decentralized finance), where it's already trading at fairly cheap multiples.
There are a lot of DeFi assets that trade from P/E (price to earning) multiples anywhere from 10 to 40. They're not crazy high-valued; tech stocks are trading at multiples of 400 to 500x. Our view is it's going to decouple over the next number of weeks and crypto will sort of trade independently again. It's my personal view that $2,200 [Ethereum] was likely the bottom."
Featured Image: Shutterstock/RDVector
Via this site