ETC Poor Performance.  Which Altcoins are Doing Well?
While some coins are showing strength against Bitcoin, VET and RUNE and not there yet.  However, there are three that have done very well over the past week.
A popular crypto trader is looking for potential winning altcoin plays as the markets grapple with a changing macroeconomic and geopolitical landscape.
In a new strategy session, Michaël van de Poppe tells his 165,000 YouTube subscribers that he currently only sees two crypto projects that are holding up against the Bitcoin (BTC) trading pair.
The analyst highlights the ecosystems of the public blockchain protocol Terra (LUNA) and scalable decentralized network Cosmos (ATOM), saying,
"Altcoins in itself, how should you determine the actual strength? Through Bitcoin pairs.
We can see that the Bitcoin pairs are not showing too much strength except for LUNA [and] the ATOM ecosystem."
Anchor Protocol (ANC) is one such example. The lending and borrowing platform built on the Terra blockchain surged 50% in just one week, as the total value locked in the project hit $11.21 billion in total value locked (TVL).
Van de Poppe notes that even leading smart contract platform Ethereum (ETH) isn't keeping pace with Bitcoin after BTC's recent surge in price. He advises patience for would-be altcoin investors.
"ETH against Bitcoin is dropping down. The Bitcoin pairs are losing momentum.
When it comes to [altcoins], you clearly want to wait for additional confirmation or on fundamental grounds, which is [interest] rate hikes, but also on the price action of Bitcoin.
For instance, Bitcoin clearly having a bottom structure, clearly flipping $46k, those are two reasons you want to rush into altcoins at that point because then the scope for your trading is going to be changed."
Van de Poppe notes that for now Bitcoin dominance remains strong and he expects it to keep rising in light of broader macroeconomic and geopolitical events.
"I think with altcoins it comes to taking it slow, relatively."
Van de Poppe next takes to Twitter to discuss supply chain management blockchain VeChain (VET).
"If we look at VET against BTC, the chart remains the same.
Heavy downtrend, on higher time frame support, but not looking like I'd want to jump in heavy until I get confirmation by a bullish [support/resistance] flip."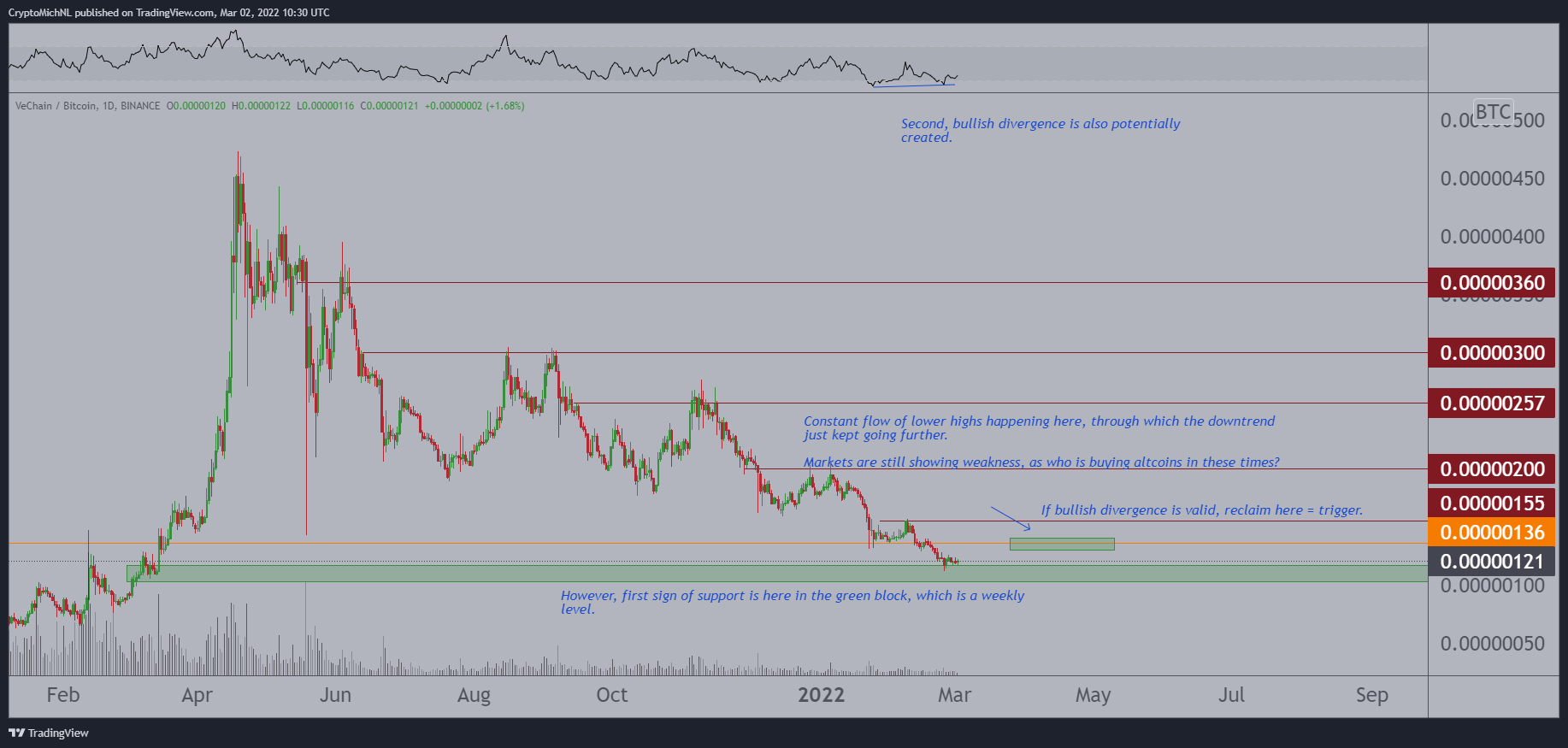 The trader next looks at decentralized cross-chain liquidity protocol THORChain (RUNE).
"My view on RUNE remains the same at this point as we've hit a significant resistance zone.
I don't expect a breakout in one go, as we've taken liquidity. If we do, the flip might be a trigger. If not, then I'm looking at the green zone."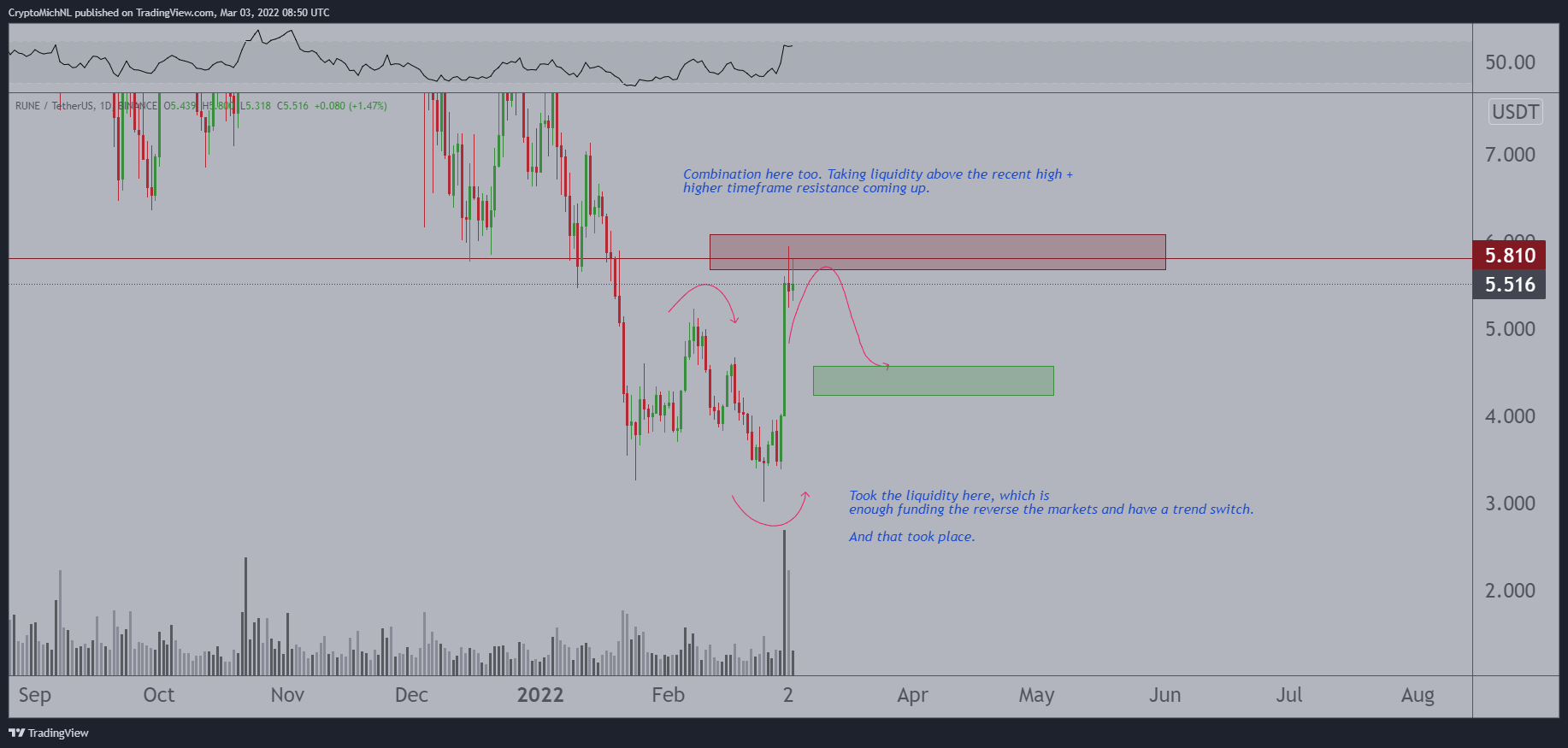 Regarding Bitcoin, Van de Poppe thinks BTC still has room to move upwards.
"Short term correction happened on Bitcoin after taking the liquidity again.
Looks to me like we're going to see another run to the highs, as the correction is not as swift as we normally would be."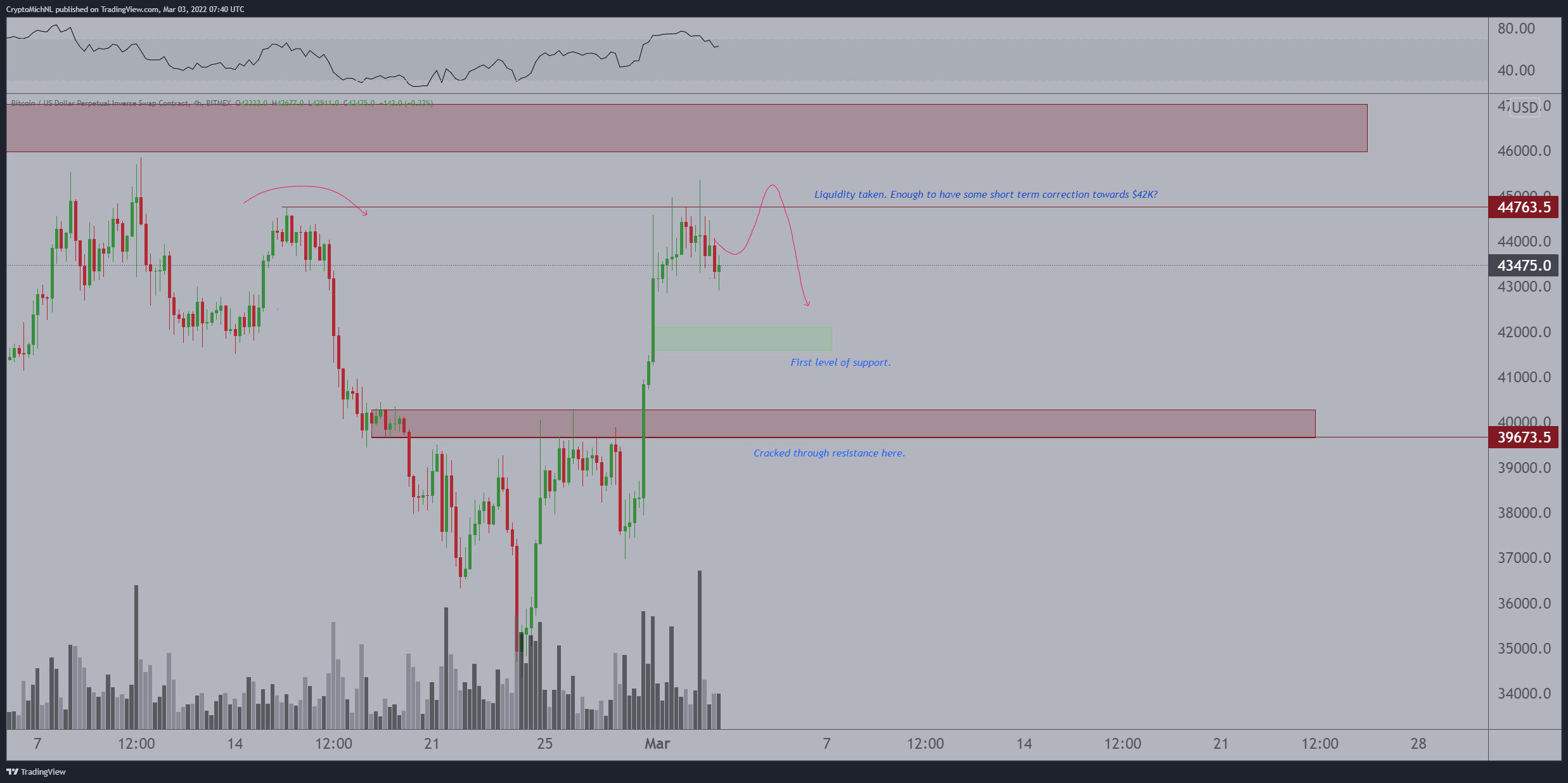 Regarding the chart above, the trader says,
"The entire market is probably waiting for a move like this on Bitcoin."
At time of writing, Bitcoin is off slightly from its weekly highs above the $44,000 level, down 4.28% on the day and trading for $42,472.
Featured Image: Shutterstock/Maksym Ivasiuk/Natalia Siiatovskaia
Via this site